Horizon Dashboard
Auto Shop Software That Accelerates Your Business Beyond the Horizon
Through our partnership with Horizon Dashboard, we offer our repair shops a top of the line auto shop software that allows shop owners and service advisors to gauge exactly how well and efficient their shop is performing.
*For Mitchell 1 Manager SE, Snap-on ShopKey SE, NAPA TRACS, and R.O. Writer shop management systems.
Auto Shop Reporting Dashboard
Horizon Dashboard allows shop owners to actually set goals for their shop, see where they are having trouble, and find ways to fix those issues, all on an easy-to-read dashboard layout. By using this software daily, auto repair shops are able to fine tune their business, increasing profitability by addressing any weaknesses. This auto software is designed to help shops grow, not just highlight their inefficiencies.
Customize reports and add Key Performance Indicators (KPIs), such as:
Profit Year Over Year

Total Gross Profit

Total Sales

Average $/RO

Effective Labor Rate

Parts/Labor Ratio
All available KPIs are displayed as gauges, making it easy for shop owners to understand. Are you in the green? Great job - you're doing everything right! If you're in the yellow or red, click on that KPI for some helpful tips on how to improve your shop's performance.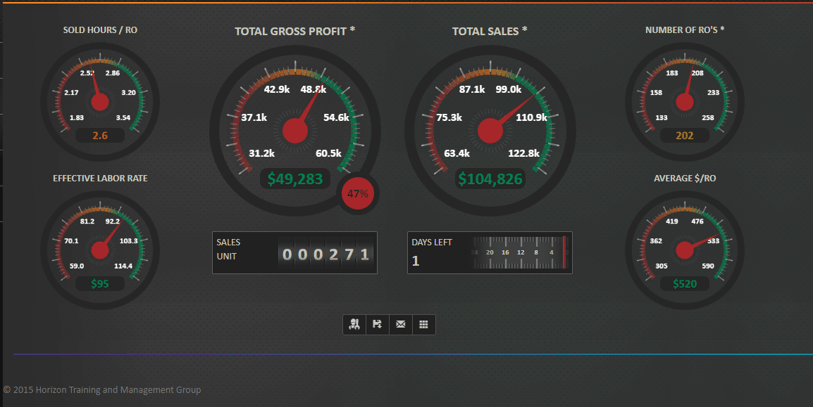 "It allows you, as a shop owner or service advisor, to see all your KPIs, your Key Performance Indicators. And not only do we show you all your KPIs on a daily basis, but we tell you what you're doing really, really well and it tells you what your doing not so well. How we differ is by actually offering your the corrective measures to fix what you're not excelling at." - Frank Dragon
With Horizon Dashboard, we offer training videos and additional webinars to help improve the areas of weakness in repair shops, so shop owners and service advisors do not have to spend time searching for the answer or wondering how it's done. Everything you need is RIGHT there. Horizon Dashboard will provide performance metrics across all locations for multi-location brands - all on one dashboard.
Reporting Automation
Technology makes things easier. With our auto shop reporting software, everything is automated! No more entering in daily numbers and sales manually. Count on all your shop's data within the shop management system to automatically integrate with the Horizon Dashboard to report real- time results. As an added feature, shops can measure up to their competition. Anyone else using Horizon Dashboard can communicate with each other and tweak goals to maximize performance in their community.
With real-time reporting and total automation, Horizon Dashboard will maximize your auto shop's performance and efficiency, raising your bottom line, and improving your shop's ARO.